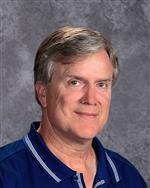 A Message from
Principal Alan Hollman
As we embark upon the school year, we want to encourage you to be prepared to put forth the best effort of your career. We firmly believe that the opportunities available to young people today are the best ever, and we at Madera High are committed to preparing you to take advantage of those opportunities. However, only through a combination of your effort and our program can we reach our goal.
The curriculum at Madera High is comprehensive and challenging. Your intellectual, social, and emotional development has been provided for in our courses and I hope you have planned carefully in the selection of your particular course of study. The staff is very interested in helping each of you have a quality educational experience. If you require assistance of any kind, please seek the help of our teaching, counseling, or administrative staff.
The creation of an academic and disciplined, yet friendly, atmosphere on a school campus is the result of every person following the policies and norms of the school. Those expected behaviors are outlined in this booklet and we would ask you to carefully review them so that misunderstandings do not result because of a lack of information.
We are very proud to be a part of "Coyote Country" and hope you feel the same way. Together, we can make a great year at Madera High. We extend our best wishes to you and hope to have an opportunity to help you be a success during the coming year.