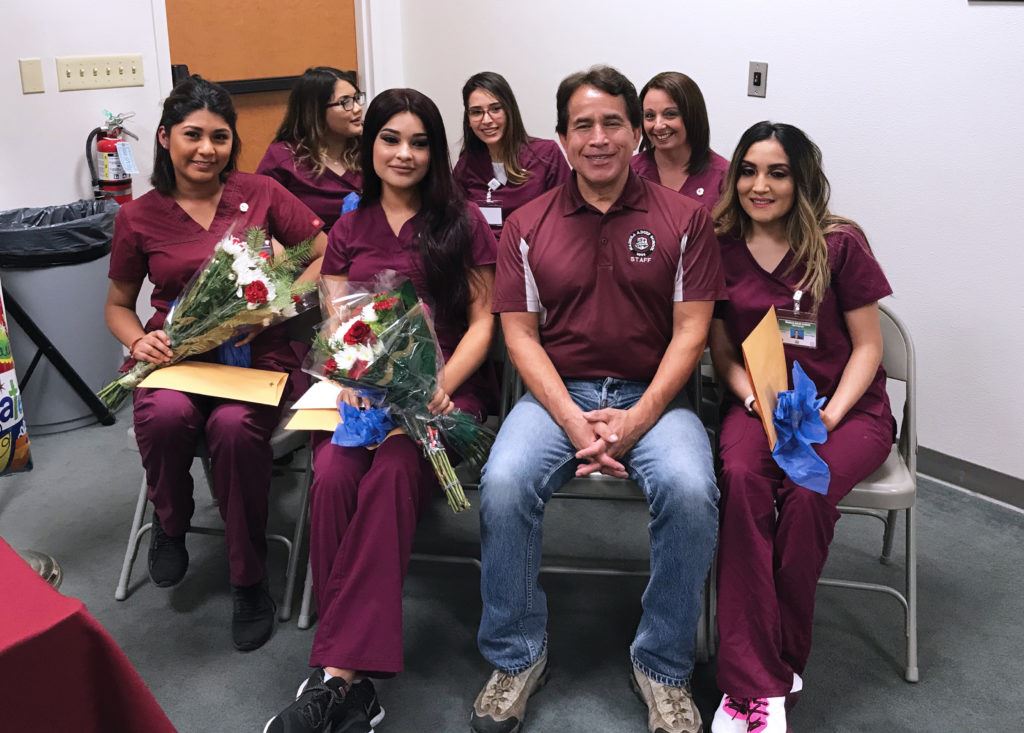 By David Raygoza, Principal, Madera Adult School & Frédéric Martin

Madera Adult School (MAS) located in the Madera Market Place Shopping Center, on West Cleveland Avenue, is one of the best kept secrets of Central California. One of the largest adult schools in the State Center Adult Education Consortium (SCAEC), Madera Adult School is looked upon as an innovative and progressive institution. The school's staff works diligently to meet the individual needs of all our students. Staff members work hard to connect with our students to help them thrive in their academic endeavors. Our team understands that the positive connections we form with our students play a huge part in their success at Madera Adult School. Our staff members take pride in being innovators in the adult education field. In fact, the State Center Adult Education Consortium End-of-Year Report underscored that, last year, our school had, by far, the highest learning gains of the consortium member institutions. Third in funding and student body size behind Fresno Adult School and Clovis Adult School in the Consortium, Madera's success rate far exceeds its larger neighbors in literacy gains and leads by an order of magnitude in gained employment and increase in wages thanks to its uniquely crafted programs.

The MAS team was recently invited to an Integrated Education Training in San Jose, in late December 2018, and was quickly switched from trainees to trainers because of its innovative methods. For example, MAS has combined a computer literacy course with an ESL class so that the vocabulary learned in class could be immediately applied to the computer literacy lesson. We have also incorporated a work force recognized certificate, a unique model that intrigued the San Jose-based conference attendants so much that the Integrated Education Training group has asked MAS Principal Raygoza and Teacher, Johnathan Chandler to lead an on-line discussion to discuss the program's unique practices. This on-line discussion will be used to empower and benefit other I.E.T. programs in the State of California.

The Madera Adult School educators have conscientiously worked to build active partnerships with local organizations including the Madera Workforce Development Board of Madera County, the Department of Social Services and the Madera Community College Center (MCCC) to directly benefit our students and our community. Through these partnerships, our students have been able to attend MCCC ESL classes, located on our campus, or have their class tuition paid through Workforce assistance. Our current school enrollment is at about 1,000 students, but, as it varies throughout the year, will likely build the student body up to about 1,200 in the spring.

MAS offers six programs to students and the community: Adult Basic Education, English Language Acquisition, High School Diploma, HiSet (GED), Community Education, and Career and Technical Education. Students can enroll in classes where they can earn Workforce recognized certifications in classes such as Emergency Medical Technician (EMT), Certified Nurses Assistant (CNA), Security Guard Training, and Microsoft Office Specialist; these classes provide many of our students with employment opportunities and the skills to advance in their career.

One cannot overstate the critical importance of the cooperation, between the Madera Adult School and the organizations named above, as their joint efforts have significantly contributed to the overall success of our educational programs, including access to real-world employment opportunities following the successful certifications of our students, usually leading to gainful employment and, in some cases, above average wage increases for Madera Adult School certified graduates.

We invite you to become an active participant at our school by volunteering or attending our many classes. Together, we will continue to make the Madera Adult School an aspiring model for adult education schools. "We believe" in providing our adult students and community stakeholders with a "Five Star Service." Madera Adult School is located at 2037 W. Cleveland Avenue. For more information, contact us at 559-675-4425 or visit us online at www.madera.k12.ca.us/adulted.
A TRUE CENTRAL VALLEY LEADER INNOVATION IN BEST PRACTICE