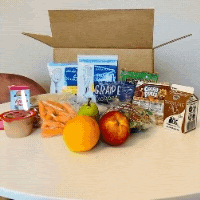 Meal Distribution

Meal distribution is every Wednesday from 11 a.m. - 12:30 p.m. at all 18 elementary schools.


Madera Unified's Child Nutrition Department serves meals under the guidelines of the Seamless Summer Option (SSO). This allows schools to offer meals to all children (between the ages of 1 - 18) at no charge.

Why the SSO?
This helps minimize the challenges of meal service during this pandemic. Children do not have to be present to receive meals when the

parent

/guardian is picking up during meal distribution.

---


Distribución de comidas

La distribución de comidas es todos los miércoles de 11 a.m. a 12:30 p.m. en las 18 escuelas primarias.


El Departamento de Nutrición Infantil del Distrito Escolar Unificado de Madera sirve comidas bajo las pautas de la opción Seamless Summer Option (SSO). Esto permite que las escuelas ofrezcan comidas a todos los niños (entre las edades de 1 a 18) sin cargo.

¿Por qué el SSO?
Esto ayuda a minimizar los desafíos del servicio de comidas durante esta pandemia. Los niños no tienen que estar presentes para recibir las comidas cuando el padre / tutor está recogiendo durante la distribución de las comidas.