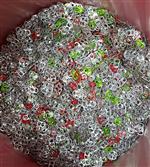 Update: as of 1/29, we are at 70 pounds of can tabs. That equals 7 nights for a family at Ronald McDonald house!!
Don't stop now... can we get to 10 nights?
Did you know that 10 pounds of can tabs pays for 1 night at the Ronald McDonald House? We will be collecting can tabs from now until March 31, 2016 to help Madera Evening Lions with this great cause. Hope you join us!